COMING SOON — "Perdition" the first book of the Virago series.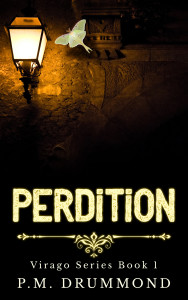 THANK YOU!!!  Readers have spoken! Perdition has been selected for publication on Kindle Scout! The tentative release date is July 12th. A link for pre-orders and for ordering will be posted here as soon as it's available.
Thanks again!
Nominate Perdition at KindleScout to be published!
https://kindlescout.amazon.com/p/1GYPF9E3E5KYB
Marlee Burns longs in vain to be normal.
She's been telekinetic since birth, but her parents forced her to suppress her abilities and keep them secret. Now that she lives alone for the first time in her life, her power is surging out of control sending things flying all around her. Her mishaps attract the wrong kind of attention. When someone tries to kidnap her, she's saved by a man with secrets and powers of his own.
Unable to go back to her home and job until she finds answers, Marlee embarks on a journey to find the truth of her power's origin and who is hell-bent on capturing her. During this journey, the girl who thinks she is the only freak in the world finds out that she's not the only one…
And she's far from the strangest.